Blue/Green Deployment
In a Blue/Green deployment, network traffic to your service/artifact is routed between two identical environments called blue (staging) and green (production). Both environments run simultaneously, containing different versions or the service/artifact.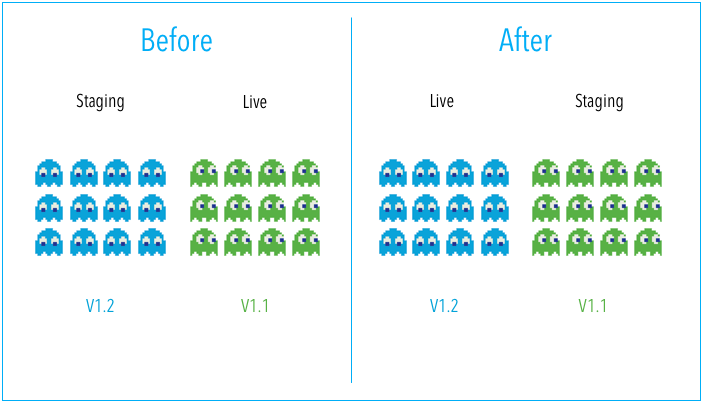 QA and User acceptance testing (UAT) are typically done on the blue environment. When satisfied, traffic is flipped (via a load balancer) from the green environment (current version) to the blue environment (new version). Once deployment is successful, you can decommission the old environment.
The greatest benefit of a Blue/Green deployment is Rapid Rollback: rolling back to the old version of a service/artifact is simple and reliable because network traffic is simply routed back to the original instances. You don't need to redeploy previous versions of the service/artifact and the instances that comprised their environment.
Kubernetes and Blue/Green
The default setup and configuration required for Blue/Green deployments is available in Harness out-of-the-box. The only requirement or pre-requisite is that you use Kubernetes to deploy your service artifacts. The Blue/Green workflow spins up the same number of instances in your blue (staging) environment that are already running in your green (production) environment.
Intended Audience
Before You Begin
To Create a Blue/Green Deployment
The following procedure creates a workflow using the Blue/Green deployment type. The services, artifacts, environments, and Kubernetes service infrastructure in the procedure are pre-existing.
To create a Blue/Green deployment, do the following:
---
---