Add Nexus Artifact Servers
Connect your Nexus artifact servers with Harness.
In this topic:
Before You Begin
Visual Summary
Here's an example configuration of the Nexus Artifaction Source addition.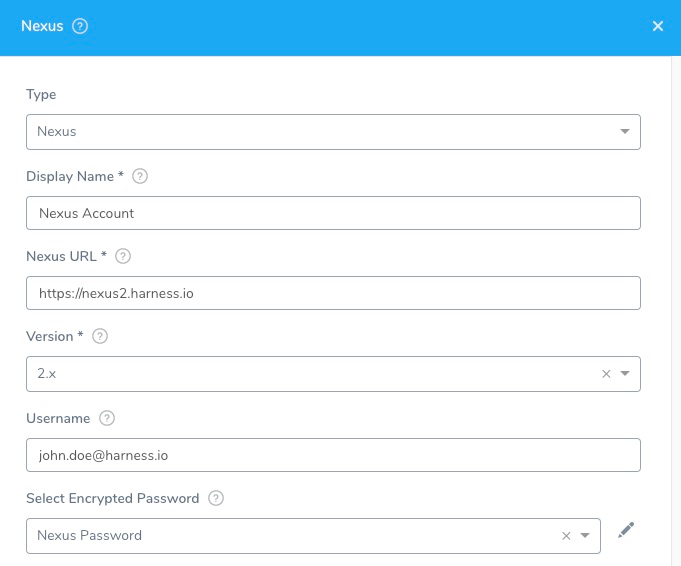 Review: Nexus Permissions
Make sure the connected user account has the following permissions in the Nexus Server.
Repo: All repositories (Read)
Nexus UI: Repository Browser

If used as a Docker Repo, the user needs:
List images and tags
Pull images
Step 1: Select Nexus Artifact Server
To connect to an artifact server, do the following:
Click Setup.
Click Connectors.
Click Artifact Servers.
Click Add Artifact Server.
In Type, select Nexus.
In Nexus URL, enter the URL of the Nexus server.
Step 2: Version
The Version field in the dialog lists the supported Nexus versions, 2.x and 3.x.
For Nexus 2.x, Harness supports repository formats Maven, npm, and NuGet. See Sonatype's website at Supported Formats.
For Nexus 3.x, Harness supports repository formats Docker 3.0 and greater, Maven, npm, NuGet.
Step 3: Enter the Credentials
Enter the username and Select Encrypted Password.
For secrets and other sensitive settings, select or create a new Harness Encrypted Text secret.
Usage Scope is determined by the secret you selected.
---
---